For Teachers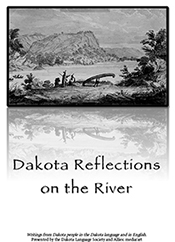 The graphic to the left is a link to a downloadable book of writings on the river by Dakota and other writers. All pieces are provided in the Dakota language and the English language. It is provided for classroom or personal use.
Teacher resources developed by Dakota people or referred by Dakota people can be found on this page and the links available here. MORE resources can be found on the Minnesota Humanities Center's Absent Narratives Resource Collection.
The video below shows a tour led by Ethan Neerdaels and Ramona Stately for St. Paul Public Schools teachers. View it to prepare for your own or your students visits to sites in the Bdote area. To view a version that is more easily made full screen, click here.
Below are some suggestions of how to use the Bdote Memory Map in your classroom and links to resources for place-based learning and other methodologies that the Memory Map might support. The LEARN MORE section of the site has many links for background information. We encourage that people develop personal relationships with the Dakota sites in the Minneapolis-St. Paul area, and in the same way, full appreciation of the Bdote Memory Map will require developing your own relationship to the resources and information presented.
The Minnesota Humanities site has worksheets and more resources for your use.
Please keep in mind that history is written from specific cultural perspectives. Many of the primary resources that often used in classrooms present Dakota history and identity, and US-Indian relations, based on assumptions that not only arise from non-Dakota perspective, but actively exclude any indigenous perspective. Challenging these assumptions is much more than a matter of "political correctness;" it is a requirement for any accurate understanding of our past.
In any classroom activity that involves cross-cultural communication or culturally specific subject matter, it is important to question the perspectives that resources and activities reinforce.
Using the Bdote Memory Map Site
You can now incorporate the voices of Dakota (and other Native) people into your curriculum — and share your memories of experiences along the Twin Cities waterways — with a click.
Explore the Bdote Memory Map Website
The Bdote Memory Map offers a variety of assets for classroom use, including:
Videos, audio presentations, maps and writing about specific sites in the Twin Cities that are of significance to Dakota people.
Background information in a variety of formats that places site-specific information in a broader cultural context.
Video pieces of Dakota people and other presentations that give visitors a more in-depth understanding of who we are, stories of our past, and how we live today in the Twin Cities.
We recommend that you spend some time familiarizing yourself with the resources on this site. There is a navigation bar on the bottom of each page that will help you move through the site.
Use the Information in Your Classroom
All of the assets on this site are available to teachers free of charge for classroom use only. You can use these videos, written narratives, maps and other assets to enhance your students' exploration of the history of where they live.
Dakota people have graciously shared their culture and knowledge about living in the Twin Cities so that reliable information can be incorporated into classrooms. The information here can support instruction in US and Minnesota history, geography, Native studies, social studies, environmental studies, literature, media arts and other areas of the curriculum.
The site also features links to variety of resources for teachers who wish to find additional information about Dakota people, Dakota history, and some of the metro area sites that are significant to Dakota people.
Visit the sites
One goal of the Bdote Memory Map is to nurture relationships with the sites in the metro area. While much can be gained from watching videos, listening to Dakota people talk about their relationships to sites and reading background information, relationships are established and grown through experience. Plan your visits with the help of the Bdote Memory Map and by viewing a video tour of some of the sites. The tour video will be available on this site, but technical difficulties prevent it for the time being.
Share your experiences
The sites presented in the Bdote Memory Map enrich the lives of all Minnesotans. Add your experiences and those of your students to the Memory Map and explore the experiences of others by posting on the Bdote Memory Map Facebook page, by posting photos on the Bdote Memory Map FlickR page by sending video, audio, text and/or photos by email If you have any other questions about sharing your expressions of relationship to the places of the Bdote area send a message.
A Sample of Resources on the Web
Using PLACE as a lens in the classroom
Background information online about Indigenous people and 'Indian' Education
In a Good Way: American Indian Studies in the Classroom
An essay guide for teachers written by Dr. Greg Gagnon and distributed at the 2006 Teacher Institute seminars Dakota History and Culture and Ojibwe History and Culture.
Dakota Language Resources
Maps